You are viewing :
Home
» FAQs
FAQs
Here are some common questions asked about using WebMaker website builder, grouped into different sections. If your question isn't listed please select Contact Us and we'll get back to you with an answer as quickly as possible.

Q: Can I have my own, unique design for my WebMaker website?
YES! We provide as part of WebMaker over 100 different designs of website templates. Each can be tailored with your logo and colours. If you want a completely bespoke design then we can implement that within WebMaker, just Contact Us and we can discuss how this can be easily implemented. There will be a small charge to implement a new design.
If you would like us to create a new design then our experienced web designers can work with you to create the perfect solution that will work with WebMaker.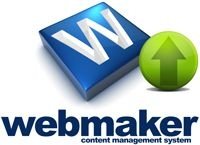 Q: Can I upgrade from WebMaker to PRO or SHOP?
Yes. If you want to add the features found in PRO or SHOP, just go to your 'Site Plugins' option (located on the right hand menu under Site Tools in the administrators section). Here you will see all the options available to you & the associated cost (if relevant). Just Select the options you need, click purchase and you will be taken to the payment screen. As soon as you have purchased any options selected will be available to use straight away.

Q: Do I have to pay annual renewal for plug-ins?
NO! Plug-ins are add-in features that are a one time purchase. Any modifications or additions to the current purchased version of Plug-Ins will automatically be available to you.
New Plug-Ins may be announced that contain new features and enhancements and may be chargeable.

Q: What happens to my content when I change my design?
Absolutely nothing. When you decide to change the design layout of the website all your content remains in place - it just moves to work in place in the new design. That's the beauty of WebMaker, you can change your website design as often as you want to keep your site looking fresh and new.

Q: What is the annual WebMaker renewal?
WebMaker CMS, PRO and SHOP must all be renewed annually to provide continued access to your website. The renewal ensures not only that your website remains active, but that any updates to the WebMaker software is available to you. The WebMaker renewal doesn't include domain name registration renewal (read about domain name renewal in this FAQ section).